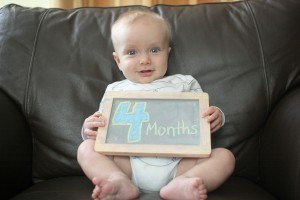 Our tiny new baby is already 4 months old!
At his check up, Micah weighed in at 15lb 13.5oz, and was 27 inches long.  That puts him in the 67th percentile for his weight and 97th for his height.  That combined with a 97th percentile head makes him a typical Akins baby.
At 4 months he has mastered rolling in both directions, which means he is now able to move around quite a bit in bed and playing on the floor.  He is now a full time belly sleeper, and prefers to play on his back.  He loves to play on the floor with his brothers.  He is dying to be able to run around with them!
He is the world's happiest baby most of the time.  As long as he is getting attention, he is all smiles and giggles.  We did have a few rough days recently though, as he broke his first two teeth.  The first tooth came through the day before he was 4 months old, and then the second came through on his 4 month birthday.