On August 23, Micah turned 2 months old.  He weighed in at 13lb 6oz and was 24.5 inches long.  That puts him in the 85th percentile for weight and 91st percentile for height.  He is now 10 weeks old, and I think it is safe to say he is a super easy newborn.  We never really knew babies could be this easy.  He sleeps a lot and is happy and smiley when he is awake.  He sleeps most of the afternoon these days and cat naps in the morning and evening.  The only time he really gets fussy is after 7pm, and that is because he wants to be put to bed.  If we are home, we start his bath then, and he is usually in bed by 7:30.  On the other hand if we are out, say at our life group, he gets really fussy and can't seem to fall asleep.  Overall, we can live with a little fussiness given his good mood the rest of the time.
He also LOVES his brothers, and smiles from ear to ear whenever they pay attention to him.  Of course, they love seeing him smile so they give him lots of attention.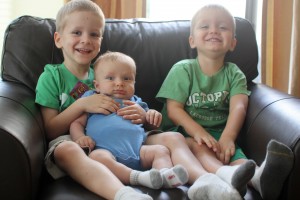 This morning we had a baby dedication at church for Micah.  With both of our other boys, we were never able to do this because of issues with changing ministers at church when they were born.  We were really glad to be able to use this opportunity to commit to raising all of our children to know Christ, and have the church commit to supporting us in this.  We are so thankful God chose us to be parents of these boys and find ourselves asking daily for His guidance and strength!