I know that it has been a million years since we updated this blog!  As Micah is growing though, I realize how much we enjoy looking back at old blog posts to see what our older boys were like at various ages.  I am going to attempt to start updating the blog again, with basic stats if nothing else.
To start with, we welcomed Micah into the world on June 23 at 11:19am, almost a full week overdue.  He was 9lb 6.6oz and 21 inches long.  A BIG boy!
At 2 weeks, Micah was 9lb 14.5oz and 22 1/2 inches long!
At one month, he weighed 11lb 11.5 oz and was 23 inches long!  He started big and is just getting bigger!  He also holds his head up well and loves to smile.  He is by far our easiest newborn.  He sleeps a lot, and eats only every 2-3 hours — unheard of for an Akins baby!  The only difficult time we have with him is getting him to sleep at night.  He seems to want to wake up after his brothers go to bed and stay awake until midnight!
Here is a fun comparison of Micah getting his first bath at 2 weeks old and Caleb getting a bath at 6 weeks old.  I think Micah is bigger!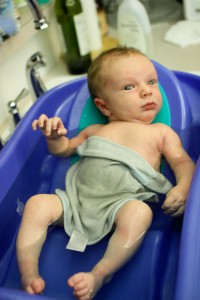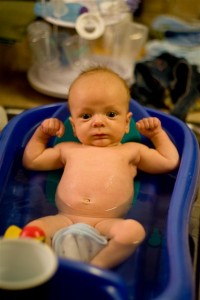 Ethan, also had his 2 1/2 year check up recently.  He weighed 30lbs and was 34 1/2 inches tall.  That put him in the 49% for weight and 88% for height.  He is tall and thin just like his big brother now.  At 2 1/2 Ethan is our handful!  We are working on obedience, but his first reaction is to say "No" to whatever we tell him!  He is also very bright and loving at times.  He LOVES doing jig saw puzzles, and will even do the 100 piece puzzle we have.  He is generally very busy and active, but will sit and read as long as someone is willing to read to him.  When we have friends over or when we drop him off at the church nursery, we generally find him reading with whoever he can talk into it!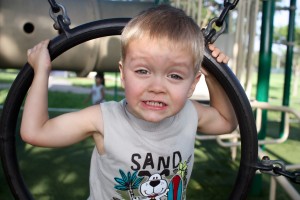 With all 3 boys our hands are full, but not as full as our hearts!